Timekeeping in Kuali Time
Timekeeping is used by non-exempt, or hourly-paid, employees. Exempt, or salaried employees, use ePTO. Review the ePTO user guides provided by IUHR for more information on using the ePTO system.
Kuali Time is IU's preferred timekeeping system. This online system is available 24/7 and is designed to collect time and attendance data for IU hourly and biweekly staff. Each pay period, timesheets are reviewed and approved by Supervisors and Payroll Processors.
There are two ways to record time worked:
Clock Entry: Clocking in and out of the system as work starts and stops. The traditional and preferred method.
Manual Entry: Logging into Kuali Time at the beginning and end of the work day to manually enter time worked.
Regardless of the method of entry, time logged is rounded to the nearest tenth of an hour to simplify time calculations. Actual clock in and out time are also saved in case they need to be reviewed. The chart below displays actual clock times, how they are captured/rounded in Kuali Time, and the decimal amount of time each represents.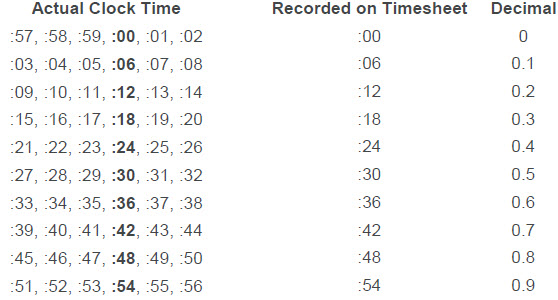 Written Guides and Videos
Here you'll find written and video documentation demonstrating Kuali Time's use. The videos are short - just one or two minutes.
Frequently Asked Questions
I can't login to Kuali Time. What do I do?
There are many reasons that you cannot log into Kuali Time. First, check with your department's Payroll Processor to make sure you have a valid Kuali Time assignment. If you are still unable to log in, contact UCO Customer Service.
What operating system or browser should I use to access Kuali Time?
Review the Kuali Time Technical Specifications page for the most current recommendations.
What is a Kuali Time kiosk and how do I use it?
Some IU departments use Kuali Time kiosks, or computers dedicated to the Kuali Time system and equipped with card readers. Employees swipe their ID card at the login screen. If they have card problems, they can click the button on the screen and log in with their username and passphrase.
I clocked in at one time but the system recorded that I clocked in an hour earlier (or later). How do I change the time zone in Kuali Time?
If your timesheet has the wrong time zone, check to see if your timesheet is set to your campus location's time zone by clicking the Person Info tab in Kuali Time. Under the Your Person Details section, choose the appropriate Timezone Preference from the drop-down menu. Select "America/Chicago" if you work in the central time zone; select "America/Indiana/Indianapolis" if you work in the eastern time zone.
The time in the system is fast (or slow) compared to my phone. Am I going to be over (or under) paid?
Kuali Time uses the system time on the Kuali Time server, which is synchronized to with the U.S. Navy's atomic clock. No changes to hours worked will be made due to disagreements over the system's time.
I have two jobs and accidentally clocked into my primary work when I should have clocked into another work area (another department). What should I do?
If you are currently clocked into the wrong assignment, continue working and then clock out as usual.
Once an incorrect time block has been recorded in Kuali Time, go to the Time Detail tab. Find the time block that was incorrectly clocked and click on the underlined Assignment name. The Update Time Block box will open. Using the Assignment dropdown, select the correct assignment. Click Update.