Financial Statements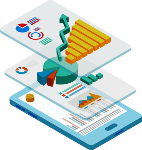 Created for campus administrators and fiscal officers, this area provides information on how to efficiently and effectively run the Financial Statement Report along with the Forecast Report. Included in this section is information regarding the required parameters and how to get the most out of these report. Financial information presented to external users is presented differently than these internal reports; however, the information used to create both the internal and external reports is the same.
Financial Statement Report - There are three major financial statements utilized at Indiana University which include the Income Statement, Balance Sheet and Cash Flow Statements. The Financial Statement Report helps users with quick and easy access to all financial statement reports.
Forecast Report - The Forecast Report is a management tool that presents financial information (revenue and expense) based on actual and budgeted (projected) amounts within the current fiscal year. Campus administrators and fiscal officers use the forecast report for planing and control purposes within their respective entity.