Central Payroll Attendance Processing
Central Payroll - Biweekly Attendance Balances
BW1/BWP staff are enrolled in leave plans when the employee completes their benefit enrollment after the hire is saved in HRMS. (Main menu>Benefits>Enroll in Benefits>Leave Plans)
IUHR runs the flexible service process the first week of each month and picks up new records to establish Flexible Service Date information. The Proj Service Date is used to determine leave accrual rates. (Main menu>Workforce Administration>Flexible Service EG>Flexible Service)
After each biweekly payroll confirm, we run a process to update Leave Accrual Balances and build a new row based on pay period end date. (Main menu>Benefits>Manage Leave Accruals>Review Accrual Balances)
If new hires have a confirmed payment before the Flexible Service Date is established, the system will not calculate accruals but will collect service hours if the employee is enrolled in leave plans. After the Proj Service Date is established, the system will calculate all retro accruals based on the service hours when the next regular biweekly payroll is confirmed.
How to research leave accrual calculations:
Review job record to find effective date of hire and action date when job was saved in HRMS.
Verify employee is enrolled in leave plans (Benefits > Enroll in Benefits > Leave Plans). Compare the Effective Date to Election Date to determine when Leave Plan enrollment was complete.
BW1 Plans;
50: Sick

Benefit Plan: SICKSB Sick Hours-Nonexempt

51: Vacation/PTO Accrued

Benefit Plan: VACSB Vacation Accrued - Nonexempt

5V: Vacation/PTO Available

Benefit Plan: VAVSB Vacation Available - Nonexempt

5X: Holiday Hours

Benefit Plan: HOLSB Holiday Hours - Nonexempt

5Y: Compensation Hours

Benefit Plan: CMPSB Overtime Compensatory - Nonexe
BWP Plans;
50: Sick

Benefit Plan: SCKBWP Sick Time – PAO/U

51: Vacation/PTO Accrued

Benefit Plan: PTOBWP PTO Accrued – PAO/U

5V: Vacation/PTO Available

Benefit Plan: PTVPA PTO Available PAO/U

5X: Holiday Hours

Benefit Plan: HOLPA Holiday – Professional (PA)

5Y: Compensation Hours

Benefit Plan: CMPPA Compensation Hours – PAO

5W: Honorary Hours (if applicable, not required—only grandfathered into this plan)

Benefit Plan: HONBWP Honorary Hours – PAO/U

 
Review Flexible Service information (Workforce Administration>Flexible Service EG > Flexible Service). Verify the Proj Svc Date exists on the Flexible Service page. It should match the hire date unless credit is being awarded for prior service. Use this date to determine accrual rates.

a. If the date is missing, this record hasn't been processed yet and no accruals will be calculated. 

If the Flex Service date is missing but the employee has enrolled in benefits, all hours paid will be stored in "unprocessed data" on the Review Accrual Balances page. Review Leave Accrual balances (Benefits > Manage Leave Accruals > Review Accrual Balances). Enter ID and click search to display detailed records. They are created by Plan Type and Accrual Process Date which is the same as pay period end date.
Here's an example of someone newly hired that worked 40.00 hrs before the Flexible Service process established their service dates and the system is storing the hours in Unprocessed Data. It will be picked up and included the next time a BW payroll confirms.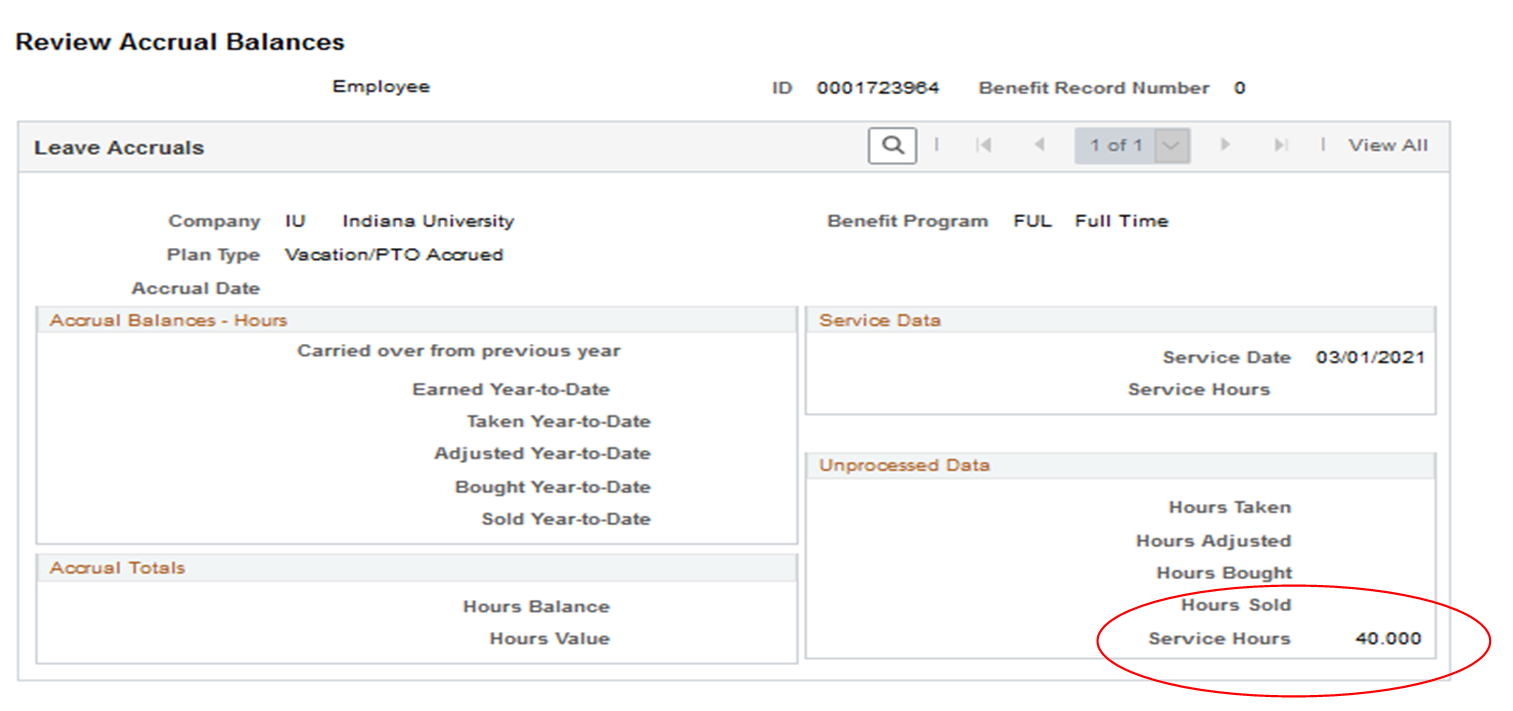 Run IUIE query: Leave Balances to produce a spreadsheet of accrual earn/usage detail by pay period end date.
Employee was paid 80 hrs on pay period 03/06/2021 before the flexible service process ran to establish their service dates. They were enrolled in leave plans and the system recorded the 80 hrs as unprocessed data. When the next payroll was processed for pay period 3/20/2021, the flexible service process was complete, so the system combined the previous 80 hrs and current 80 hrs and processed accruals based on 160 hours.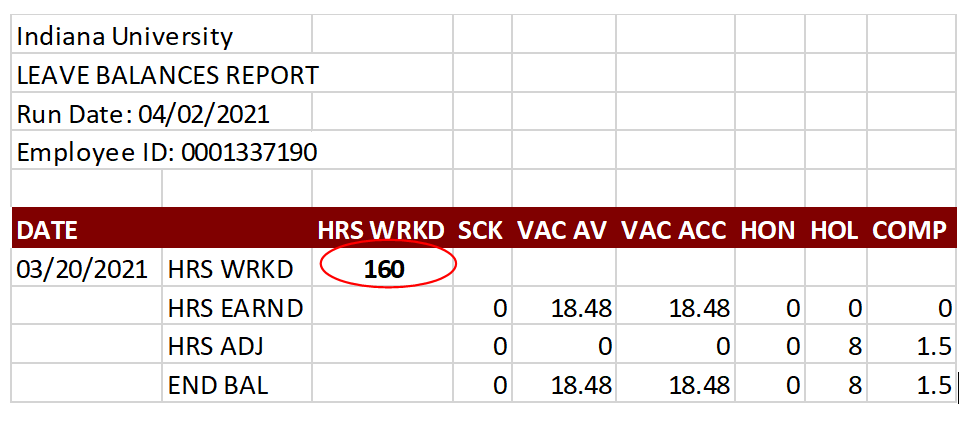 To verify hours worked and paid, run IUIE query: Paycheck Employee Hours to produce a spreadsheet of hours worked to determine if appropriate accrual balances were created.

a. Total regular and benefit hours worked.

b. Accruals are not earned on overtime or 'bonus' hours such as shift, premium, on-call, etc.

c. Calculate hours worked x accrual rates based on service date.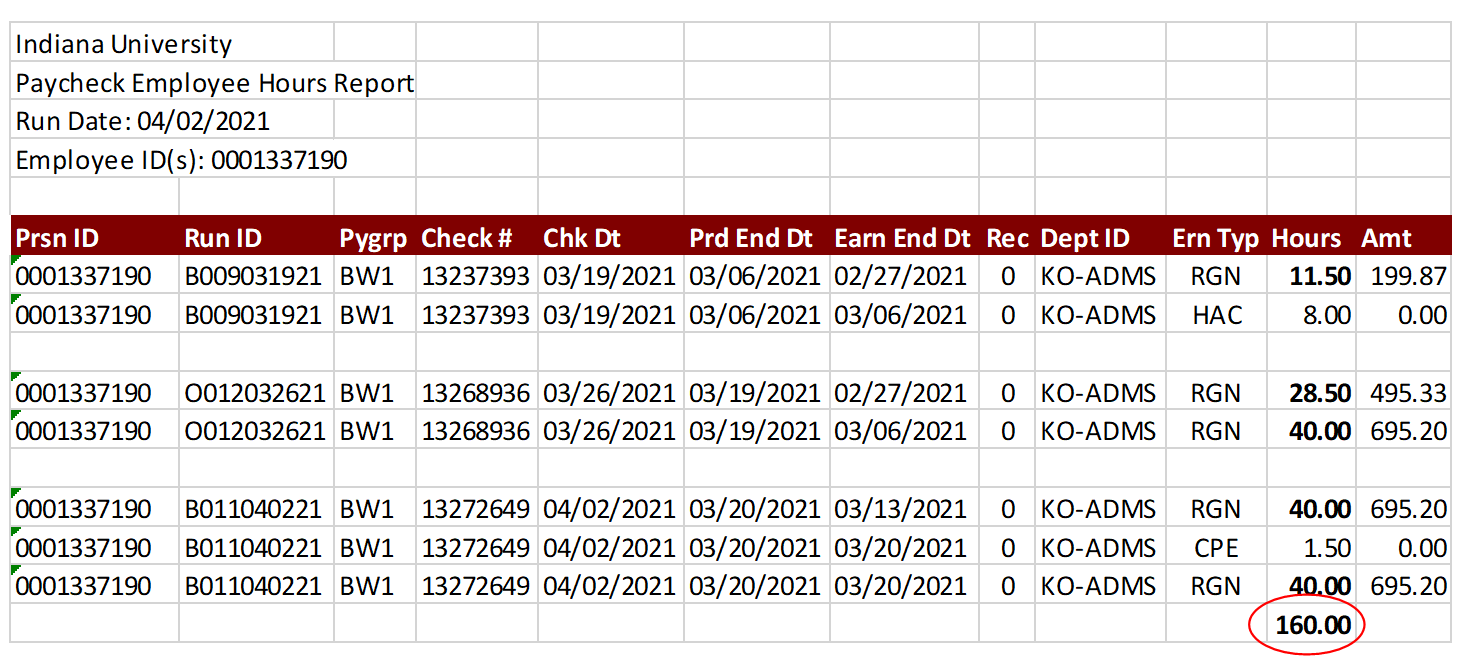 If an employee is re-hired and had old, existing balances left over from previous employment, you will need to run Leave Balances to determine the adjustment needed. Instead of using the correct 39.9 work hours, the system used old data to calculate and carry forward old balances. You will need to enter adjustments to reduce the Sick bank by 5.98 hrs and the Vacation Accrued and Available bank by 6.96 hrs.

You can also run Paycheck Employee Hours to confirm hours worked.

Ask the department to complete adjustment vouchers to correct the balances using the NOPAY earn codes established to correct leave balances (SKA, VCA, VVA, PTA, PVA). Attendance adjustments should be entered in the next on-cycle BW payroll. Leave balances only update after the BW confirm.

a. Transfers between monthly exempt and biweekly staff can be confusing since you must combine ePTO and HRMS.

b. Records staff in IUHR can assist with service dates, transfers, removing balances, etc. IUHR also manages the Sick to Vacation transfer process for qualifying staff.

c. If they were NOT enrolled in benefits before they are processed in a biweekly payroll, adjustments will need to be made for missed pay periods.

d. See specific Vacation and/or PTO policies for usage, term payout, etc.

e. Leave Accruals are reflected in Time after the Flex Service dates are established.
Warning about reviewing IUIE Report: Leave Balances.

a. The output can be confusing and the USED hours are reflected in the 'last pay period'.

b. Vacation Available is a calculated field. It can sometimes be different from Accrued, especially on the 1/1 Reset Attendance row. Accrued is the balance that should be used for payout, etc.

c. If the employee is assigned to a new paygroup (S12) before the BW payroll is confirmed, their record will not be included in the Leave Accrual Process. You would need to run the IUIE reports to view hours worked/taken and paid to manually calculate accruals.