Invoice Payment
Indiana University accepts invoice payments via ACH/wire, check, and credit card. Use the Table of Contents button on the right-hand side of the page to jump to a payment method.
Questions about your payment? Contact Accounts Receivable using the Contact page.
ACH/Wire
Banking information is provided by the IU department which issued the invoice. Contact the IU department for payment details. Department contact information is available on the top of your invoice, below the invoice number.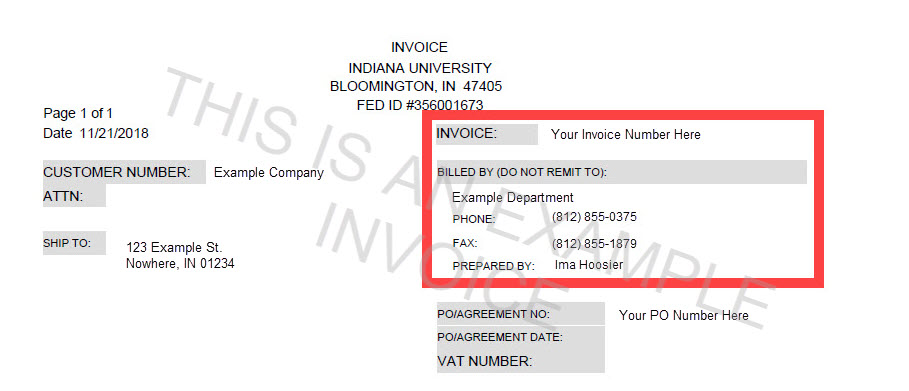 In order for your payment to post correctly, the following information must be included with your payment:
Invoice number
University department and/or contact name
For companies and foundations supplying grants for research: Grant number and researcher name
Check
Checks must be mailed to the lockbox address printed on the remittance portion of your invoice.
To ensure proper credit, please include your remittance stub or your invoice number and customer number with your payment. The image below is an example of a remittance stub. The lockbox address on your invoice may vary from the one shown below.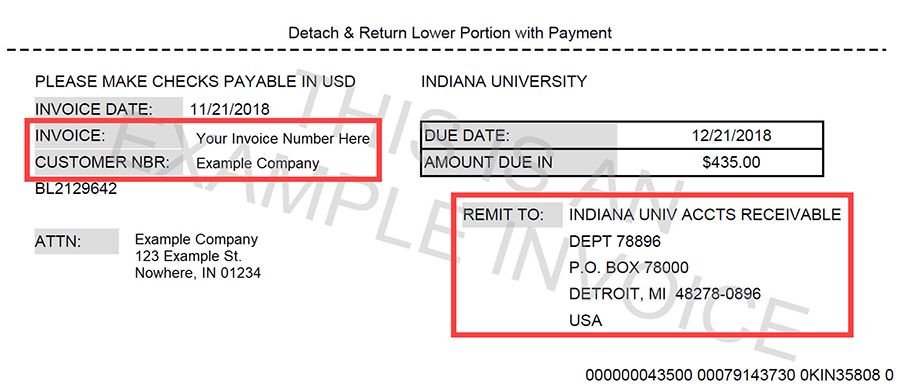 Credit Card
Pay your invoice via credit card using IU's secure PayPlus website. All major credit cards are accepted. You must provide your invoice number and customer number listed on your invoice to submit payment. The image below highlights where you can locate your invoice number and customer number on the invoice remittance stub. Click here to access PayPlus.